Palm oil is an edible oil that is the most commonly used vegetable oil throughout the world. It is because this oil can be used in different industries such as cosmetics, soaps, pharmaceuticals, animal feed, and chemical manufacturing, etc. Fruit of oil palm trees is used for its production. Actually, two different oils are produced from this single fruit. One is called crude palm oil (CPO) that comes out of the fleshy part of fruit while the other one is called palm kernel oil (PKO) that comes out of the kernel (endosperm) of this fruit. Both have different structures, qualities, and uses.


Palm Oil Processing Business Profits
The production of palm oil and palm kernel oil is also different, palm oil processing plant requires complete palm oil production process and palm kernel oil extraction plant has some similar process with other cooking vegetable oil manufacturing. ABC Machinery provides customized plan to help customers set up their own palm oil manufacturing plant with relatively low investment cost. If you are interested in know the specific palm oil processing plant cost, please contact us directly.
Export Values
Export Quantities
Unit Values
CAGR 02-16
CAGR 11-16
CAGR 05-16
CAGR 11-16
CAGR 05-16
CAGR 11-16
Palm Oil
10.14%
-7.48%
5.31%
2.41%
4.58%
-9.66%
Palm Kernel Oil
10.47%
-4.49%
3.54%
0.24%
6.69%
4.72%
How to Gain Profits from Palm Oil Manufacturing Plant?
As the world population is increasing continuously, global demand for palm oil is also increasing. More people mean more demand for products like medicines, cosmetics, soaps, etc. 77% of the palm oil produced is consumed in the food industry, 10% in biofuels production, and 8% in oleochemicals. The reasons it is consumed more than other oils are: it is more affordable as compared to other oils and it can be utilized in manufacturing a vast variety of products. (Read more: How to Start a Palm Oil Processing Company?)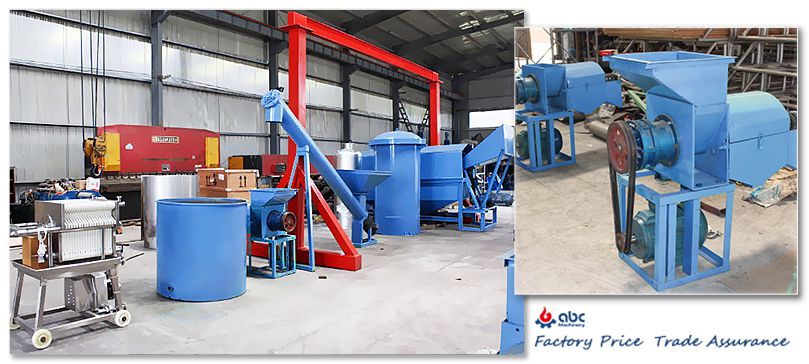 Small Palm Oil Manufacturing Plant
Malaysia and Indonesia are the largest providers of palm oil globally. Other countries like Thailand, Singapore are also progressing in its production due to the high demand for this oil. Due to all these reasons, investing in a palm oil processing business is a great idea to get a lot of profit, not only by local trading but also by selling it in international markets due to its increased consumer demand. If you are interested in investing in this profitable business today to get incredible results tomorrow then follow these simple steps and get profit-generating results.
Find an ideal location to establish this business. An ideal location for this business is where you can get your raw material and transfer the end-product easily.
Then gather all the necessary tools and equipment that you need to build this plant. A huge variety of palm oil processing machinery is available in the market, you can pick the one that meets your needs the most.
Hire skilled and trained operators who know how to make most out of the raw materials with the help of palm oil processing machinery.
Start marketing your business, in national and international markets. As palm oil has high demand so you will not have difficulty in making your place in any market if you provide people with quality products.
What is the Palm Oil Manufacturing Machine & Process
The palm oil manufacturing process requires a series palm oil processing machines. Different from other vegetable oil production, palm oil manufacturing is more complex. The typical palm oil manufacturing process includes sterilization, threshing, digesting, oil pressing, oil clarification, oil refinery and more.

Palm Oil Manufacturing Process
The fresh palm fruit (FFB) is loaded into the transporter (sterilizing truck), pushed into the cylindrical sterilizer chamber to close the door, and sprayed with direct steam for high temperature and short time palm oil sterilization process (enzyme killing). The steam flow through the fruit string heats the whole fruit to eliminate bacterial and enzyme activity, avoid the increase of free acid (FFA), and accelerate the quality of crude oil. Because bacteria and enzymes soak the oil once the rind breaks, the length of time the fruit is left in the yeast cell depends on the ripening and average size of the fruit.
In this process, the sterilized palm fruits (FFB) can be transported into the rotating barrel fruit stripper through the automatic separation of fruit bundle. The empty fruit string and fresh palm fruit can be separated by rotating through the centrifugal separator. After separation, the palm fruits are sent to a professional palm oil press machine, and then the palm oil is extracted, but containing mud, sand, water, is sent to a purifier to separate crude palm oil. The pressed cake (including fibers and cores) is fed into the next process. (Related equipment: Palm Oil Filter Machine >>)
The crude palm oil mainly contains: solid sediment, water and oil. Among them, the solid part is separated by vibrating screen, and the crude palm oil is decomposed by static method. The heated crude palm oil is fed through an oil pump into a vacuum dryer to remove moisture and then fed into a crude oil tank for storage. The sediment is treated and then put into the sewage treatment channel, and the solid is used to fertilize the field. For high quality palm oil, palm oil refinery plant and palm oil fractionation plant are also recommended in the palm oil manufacturing plant.
Small Scale Palm Oil Manufacturing Plant for Sales
Fresh palm trees are a staple crop in Africa, Malaysia, Indonesia, Thailand, South America and other countries. Malaysia and Indonesia have a lot of large palm oil mill plant. But, there also has plenty of demand for small scale palm oil mill plant, especially in Africa, it is not cost-effective to build a large scale palm oil processing plant project. So, the small scale palm oil manufacturing plant become the BEST choice for these areas. The main equipment of the small palm oil plant includes palm fruit thresher, palm fruit digester, palm oil press, palm oil tank and palm oil filter press. (Read more: Cost of Palm Oil Processing Machine in Nigeria >>)


Small Palm Oil Manufacturing Plant Cost
Large Palm Oil Manufacturing Plant Video