Processing of Refined Palm Oil or Kernel Oil: To get high grade oil products, the crude palm oil can be further processed in palm oil refinery equipment.
The small scale palm oil refining plant makes an appealing business venture for investors and the like looking into creating palm oil processing business. It has proved rather advantageous in the booming market of palm oil production.

The Prospects of Small Scale Palm Oil Refinery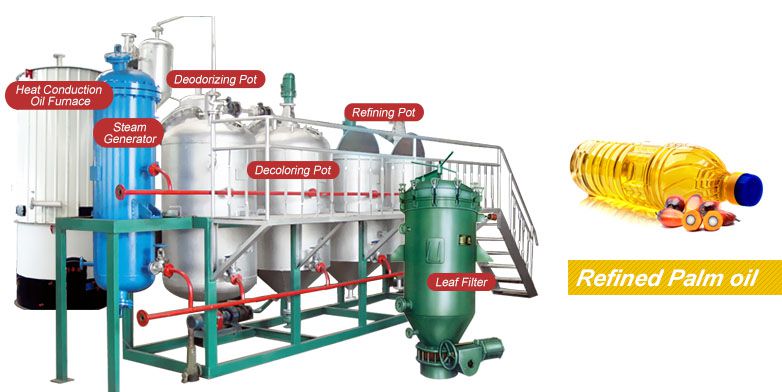 Our oil refining equipment unit for small scale production has all the bells and whistles including decreased land usage requirements and investment capital. Due to the small size of the equipment set, it is also easy to install and maintain. There are several types of crude oils you can choose to work with including palm oil (CPO), palm kernel oil (PKO) and other types of vegetable oil such as sunflower oil, fish oil, peanut oil, etc.

Crude Palm Oil: Each fresh fruit bunches (FFBs) consist many of these individual fruits. Crude palm oil is extracted from the flesh of these small fruits. The central nut or kernel can be separated and applied for extracting palm kernel oil.

Palm Kernel Oil: The palm kernel getting from the extraction of palm oil will be collected for making palm kernel oil. Palm kernel expeller or cake is the main by-product of palm kernel processing line.
Refining Process of Crude Palm Oil (3 Types)
You have the opportunity to carefully select which type refining process you want to specialize in. There are three common types of edible oil refining process: batch oil, semi-continuous oil, and continuous oil. Each type of refining process can determine the exact size and detailing process of the refinery plant.


Natural Crude Red Palm Oil Vs. Refined Palm Oil

Batch Oil Refining Process (1~30 ton/day)
This line of an oil refinery is perfect as a mini or small-scale palm oil mill plant. It requires low investment capital and a smaller occupation of land. You are able to refine almost every type of crude edible oil. The primary refinery process includes three stages which are de-gumming, neutralizing, bleaching, and deodorizing. This process eliminates all the impurities which make the oil inedible.
The refining process also includes making the oil palatable and rancid-resistant if and when it is stored for long periods of time. Batch oil refining holds a capacity of 1TPT to 30TPD.

Semi-Continuous Oil Refining Process (10~50 ton/day)
This line is suitable for medium-scale palm oil refining factory which are efficient in accommodating clients requests. You are able to refine different types of crude oils as well as plant and animal oils. It has a capacity of 10TPD to 50TPD.

Continuous Oil Refining Process (over 30 ton/day)
This line is specifically for large-scale palm oil refinery. It operates automatically with the refinement of the oils with the utmost efficacy. lts daily capacity stands at over 30TPD.
Palm Oil Fractionation
To separate solid phases (Stearine) and liquid phases (Olein), the refined palm oil should go through fractionation process. It is achieved by thermo-mechanical means.
---
ABC Machinery is a well-seasoned team of experienced engineers specializing in the set up of palm oil processing and refining plant, including small-scale palm oil refining equipment. Are you looking for the best oil refinery equipment and technology for palm oil? Does the prospect of being a part of a booming market appeal to you? We have the perfect solution just for you including killer pricing and a personalized plan to suit your needs!
Send me full detail about 15 ton Palm oil refinary plant with fractination. Also actual flow chart of your plant. -- from Kenya
In order to understand your situation and design you the refining project.Pls confirm the following information:
1: Only need the oil refinery plant & fracationnation plant? Already have oil press machine to get crude palm oil? Could you please share some pictures of the oil pressing plant for considering how to connect the two workshop for you?

2: Did you prepare the workshop for the project? If so the size is?
It's physical refinary or chemical refinary?
Chemical oil refinery plant. Pls inform is you need phisical oil refinery plant. But normally customer prefer to chemical type.
What is the process loss?
It depends on the FFA of crude oil. Could you please inform you get the crude palm oil from? How about the FFA?
What FFA we can get in final oil?
0.2 mgKOH/g
What kind of vaccume system,leaf filter like all detail pulse do me so it's easy to take decisions.
4rd water vapor series vacuum pump. It also need to be consideried combined with your requirement. You have special requirement?
Leaf filter: Use the vibrating oil filter. The leaf is stainlesss steel.
Regarding to more information and quotation: Could you please inform you prefer to batch type or semi-continuous type?