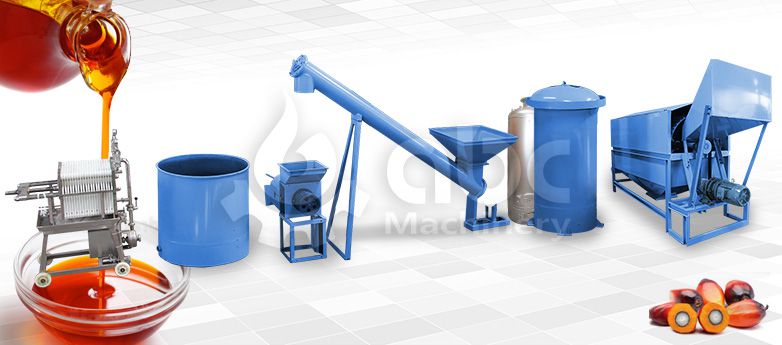 Final Product: Red Palm Oil
Processing Flow: Palm Fruit Threshing, Digesting & Sterilizing, Oil Pressing, Oil Filtering, Crude Red Palm Oil
Production Capacity: 300-400 kg/h (5-10 ton/day)
Floor Space: 15m X 6m X 5m
Main Equipment Included: Palm Fruit Thresher, Digester (include boiler and 4 baskets), Conveying Machine, Palm Oil Press, Oil Storage Tank (with electric heating system) and Plate Filter
For mini palm oil mill plant with 1~10 ton per day production output, the processing flow is relatively simple, including threshing, digesting and sterilizing, oil pressing and oil filtering. One of the reasons why small scale palm oil mill are very common in the global market including Indonesia and Nigeria is that they are affordable and they are enough to produce sufficient amounts of palm oil for local business.

Equipment List for 10TPD Mini Palm Oil Milling Process
For 1-10 ton per day palm oil production, the crane is not equipped in most cases. The crane is used for lifting the palm fruits. In mini scale palm milling factory, this job usually done manually. View the photos below to see what the complete equipment looks like.

A mini production of palm oil mill basically includes belt conveyor, palm fruit thresher, screw conveyor, palm oil press, oil tank, oil filter and oil pump. Attention that not all equipment is necessary except palm oil press and filter. The equipment selection is based on your budget and business plan.
Palm oil mill plant involves the following five processing steps:
Fruit Reception: Initially, the palm fruit bunch is weighed and offloaded from trucks. Note that the fruits have to be weighed in order to calculate the purchasing costs. The bunches have to be carefully offloaded from the trucks because if they are mishandled their quality may significantly decrease and this will have a negative effect on the final product. Poorly handled palm fruits have high acid levels which not only interfere with the taste but also increase the cost of production because the acid levels have to be decreased to a certain minimum amount.
Threshing and Sterilizing: After that, the fruits undergo a process called Threshing where they are cut off from the bunch that holds them and they are put in boiling water with very high temperatures in order to "loosen" them. This process is what is known as — Sterilization by Pressurized Cooking. For starters, the threshing process can also be done manually to lower investment cost. (Read more about palm fruits cooker and FFB threshing machine )
Palm Oil Extraction: The third step is the extraction of the palm oil in screw palm oil pressing machine. This is step marks the peak of processing and the oil is extracted from the fruits by pulp pressing.
Oil Filtering: The extracted oil is then Filtered and Purified in order to remove dirt and other remains such as water and fruit shells. After the red palm oil is purified, they can be stored in barrels or gallons before they are transported to the market.
If you're plan to invest your first palm oil mill plant but don't know where to start, don't hesitate to get in touch with us and tell us your situation, then our team will offer a customized solution for your reference with most project cost.