Professional palm oil processing manufacturer, help you build tailor-made palm oil refinery plant for processing vegetable oil or edible oil products! Low cost, premium performance!
Palm oil deodorization is the final process of edible palm oil refinery plant. It is a result of heating-crushing and heating extraction development. Odiferous material and other minor undesired particles are removed from the crude palm oil or palm kernel oil in the deodorization process of palm oil. The shelf life of refined palm oil is largely prolonged after been processed in palm oil deodorizer equipment.


Deodorization Systems of Palm Oil & Palm Kernel Oil Refinery Plant
---
Deodorization of Palm Oil
Palm oil deodorization is mainly a physical refining process belongs to steam deodorization. High pressure steam is introduced as a kind of stripping agent to remove various volatile components. The deodorization of palm oil usually processed at high temperature (>200°C) and low pressure.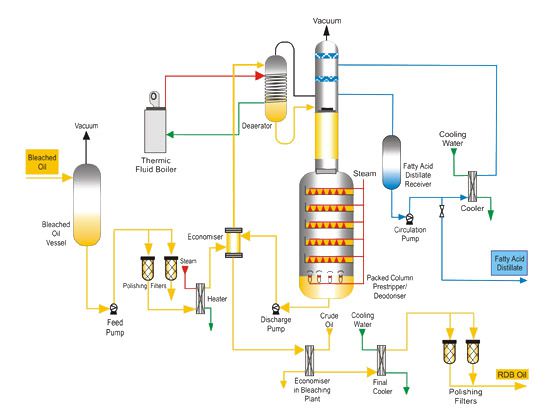 Palm Oil Deodorization Process Design
In deodorization process of palm oil refinery, before deodorizing, the bleached palm oil is deaerated and heated firstly. ABC Mahchinery is a reliable vegetable oil refinery manufacturer. Our palm oil deodorizer equipment employs a combined methodology. The bottom part designed for consistent quality, while the upper part is designed to remove free fatty acids. Through heat exchanger, the oil is cooled and ready for storage. In palm oil deodorization, the FFA level is first reduced from 3–5% to below 0.5% in a structured packing. And then the oil enters the deodorizer. As a kind of co-product of refinery plant, the free fatty acids are collected and stored.
Four Factors Affecting Palm Oil Deodorization Process
Temperature
Time
Pressure
Amount of Stripping Steam
Qualified deodorized palm oil generally has bland taste and odor, light color, high oxidative stability, and low residual FFA content. In addition, high-quality edible vegetable oils should contain no contaminants or degradation products, low levels of polymeric and oxidized triglycerides, high amounts of natural antioxidants, and low trans fatty acid (TFA) levels.

Is possible to talk to someone regarding the deodorising and vacuum system for a 30 TPD plant? Our system is batch and we are wondering if a residence time of 6 hours in the deodoriser can be reduced.
Hi dear. Sure, that's exactly the advantage of the continuous deodorization, it could save your time greatly
FYI, pls see the continuous deodorization equipments I emailed to you.
Actually, the batch type refinery could be updated to a continuous one. we just updated on in Philippines. Could you kindly tell me your flowchart and show me some on-site photos, so we could check and give some useful suggestions.
Hi,what oil residence times can be achieved from your continuous system? And what steam duty is required (I assume your system draws vacuum via steam jet ejectors).
Hi, It's continuouse refinery, the deodorized oil could go to the final oil tank directly as long as the oil temperature reachs to certain degree,
before the oil getting into the deodorization tower. Yes, we use steam to stripping the oil in the tower, and to help vacuum pump generate higher vacuum degree.
The steam consumption is around 0.5t/h for a 30TPD deodorization.