Are you looking for a lucrative business opportunity in Nigeria? Look no further than palm oil mill production. With the country's abundant natural resources and a growing demand for palm oil worldwide, the palm oil milling industry offers significant potential for profitability and growth. In this article, we will explore the profitable opportunities in Nigeria's Palm oil milling industry and how you can take advantage of them.
Blooming Palm Oil Milling Opportunities in Nigeria
Nigeria, often referred to as the "Giant of Africa," presents a highly promising opportunity for entrepreneurs looking to set up a palm oil plant. With its abundant natural resources, favorable climatic conditions, and a thriving agricultural sector, Nigeria stands as one of the world's leading producers of palm oil. In addition to this, the following conditions provide opportunities for the people who want to invest in palm oil milling industry.


Oil Palm Trees Plantation Map in Nigeria
RIch Raw Materials for Palm Oil Milling: The major palm oil-producing states in Nigeria include Edo, Cross River, Ondo, Akwa Ibom, Delta, and Rivers. These regions have very favorable climatic conditions for oil palm cultivation, so that the ra wmaterials for palm oiil milling is rich.
Cons of Traditional Palm Oil Milling Methods: Traditional palm oil milling methods have inevitable disadvantages: low efficiency, poor quality, greater impact on the environment, high labor costs, etc.The local palm oil processor efforts have been made to improve traditional palm oil processing methods and make them more efficient, sustainable, and environmentally friendly. However, the inherent limitations of the traditional approach still remain significant compared to modern processing technologies.
Industrial Processing Hilghts: In addition to smallholder farms, there are also larger industrial palm oil processing companies in Nigeria. These companies have advanced processing facilities that enable them to produce palm oil on a larger scale and meet the demand for both domestic consumption and export.
Economic Importance: Palm oil processing is a significant contributor to Nigeria's economy. It provides employment opportunities for many Nigerians, both in rural areas and in the processing plants. The palm oil industry also generates foreign exchange earnings through exports.
Nigerian Government Policies: The Nigerian government has implemented various policies and initiatives to support the palm oil sector, including the provision of subsidies, extension services, and research programs. The aim is to increase productivity, improve the quality of palm oil, and promote sustainable practices.
The opportunity of making profit from palm oil milling is inf front of you, why don't catch it right now and right here? Contact us for the details of starting a palm oil production plant in nigeria.

Build A Bright Future with ABC Machinery
ABC Machinery has extensive experience in providing engineering solutions to the palm oil industry, from small-scale to large-scale production plants, offering a wide range of products and services, including palm oil mill plant design, installation, and commissioning, palm oil refinery plant design, and turnkey palm oil processing solutions. Investors interested in the palm oil production industry in Nigeria can leverage our expertise to ensure their projects' success.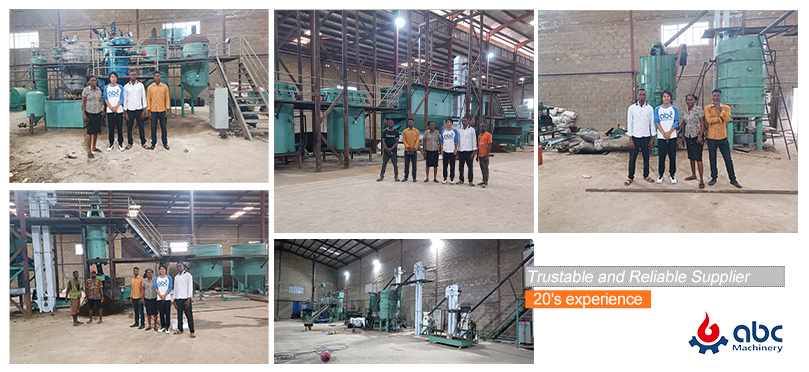 Plam Oil Milling Plnt, Palm Kernel Oil Prodcution and Refining Plant in Nigeria
When you choose ABC Machinery, you gain access to more than just superior equipment and technologies. Our unparalleled support and customer-centric approach set us apart from the competition. We are here to listen, understand, and cater to your specific requirements, providing customized solutions that align with your goals.For more details about palm oil production projects setup, you can contact us now!