Refined palm oil should go through fractionation process to separate solid phases (Stearine) and liquid phases (Olein). It is achieved by thermo-mechanical means. Fractionation can greatly maximize the value of products. Our fractionation project adopts dy fractionation process. We have posted the advantages and disadvantages of 3 common fractionation process of palm oil production which showed why dry fractionation is the best choice.
The typical fractionation process of palm oil mill is pre-heating, cooling, crystallization, and filtering.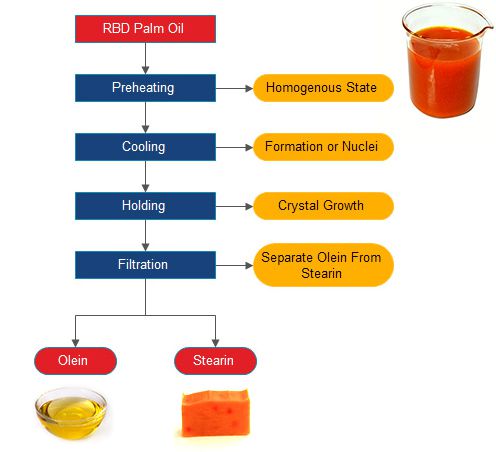 Process of Once Fractionation Plant
The liquid fraction, which is also known as olein is getting more and more popular as liquid cooking oil especially in tropical climates, competing successfully with expensive sunflower, corn, groundnut oils.
Heat treatment;
Form crystal nuclei and allow crystal growth and maturity by cooling method;
Separates soft fat from solid by plate filtering machine;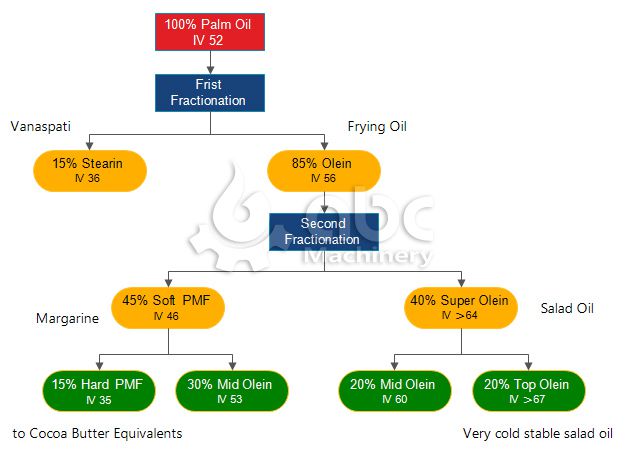 Tips: One time fractionation is enough in most cases. However, for some relatively high demand industry of stearin, confectionery industry for example, twice palm oil fractionation is suggested.
Factors Affecting Fractionation Effect of Palm Oil
Control of Cooling Water Temperature;
Filling and Squeezing pressure;
Filter cloth air permeability (400, 600 L/dm2/min);
Design of crystallizers;
Palm Oil Fractionation Plant
Palm oil fractionation plant has three fractions: stearin (palm stearine), soft fat (palm olein) and middle section (palm mid-fraction). After palm oil fractionation, palm oil will be clean after 5.5 hours in 0℃ to ensure it can keep flow ability and transparency in the refrigerator and improve the quality and appearance of palm oil.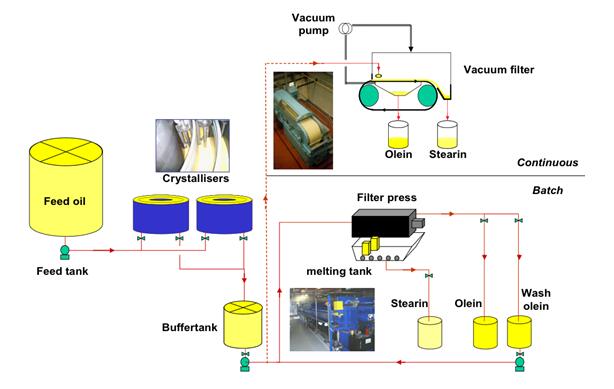 Fractionation Plant Assembly
Our palm oil fractionation technology and machinery is based on a fully continuous and automatic system without adding any solvent or chemical, ensuring premium quality of oil products.
The oil is cooled slowly to a certain degree in dissolved state, passing through plate filter to separate crystals and precipitate solid ester. Our palm oil fractionation plant is your best choice to produce stable palm oil olein and stearine products that fits your standard and quality requirements.
Features of Our Fractionation System
Simple process;
Easy and convenient operation;
No environmental pollution;
Low consumption of steam;
Reasonable price;
Satisfied palm oil fractionation results;
Dear Sir, We are interested to set up a 350 TPD Capacity Dry Fractionation Plant for Palm Oil adjacent to our other oil plants.In this regard, please quote us on C&F Chittagong basis both in technical and commercial details including feed stock to actual output.
Thank you and look forward to your early reply.
Thanks for your enquiry to our products. As for your capacity 350TPD dry fractionation plant, it's really a big plant. So I want to know the following questions fist.
1. what's your raw material, crude palm oil or refined?
2. where did you get the palm oil, make it yourself or buy from outside?
3. Do you know the index of oil, such as the moisture, acid value, pexide value?
4. Do you have boiler to provide steam?
Look forward to hearing from you soon