Our company, ABC Machinery, devotes to provide solutions for palm oil production and palm oil refining, including palm oil mill plant layout design, palm oil equipment manufacturing, palm oil equipment debugging and installation. At ABC Machinery, you can find the BEST palm oil refining plant.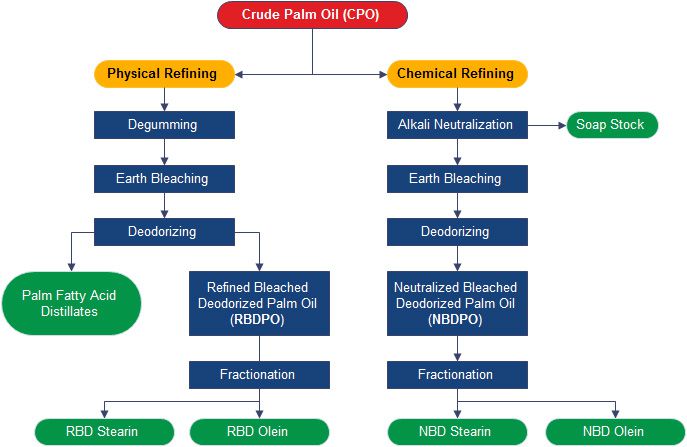 Flow Chart in Palm Oil Chemical and Physical Refining Plant
In order to get the pure and refined oil, there are three main process in chemical palm oil refinery plant and chemical palm kernel oil refinery plant: degumming process, bleaching process and deodourising process.
According to the degree of automation, the refinery process can also be divided into Batch Refinery Plant, Semi-continuous Refinery Plant and Continuous Refinery Plant. Batch type is the ideal choice for mini and small sized production (1-20TPD), while the latter two are normally designed for middle-large size production line (10-50TPD). (Read more: Comparation of Batch Refinery, Semi-continuous Refinery and Continuous Refinery Plant)
Palm Oil Physical Refining Plant
Physical Refining is the steam distillation of free fatty acids from oils and fats under high temperature and vacuum conditions.
Advantages of Physical Refining Technology
As we all know, the palm oil fruit can yield two distinct edible oil - palm oi that is obtained from the outer part of the palm fruit and the palm kernel oil that is derived from the inter kernel of the palm fruit (palm nut). Physical refining process is suitable for both crude palm oil and palm kernel oil.
Improve production capacity and refining rate.
Reduce production cost.
Shorten processing time.
Directly recovering highly purified distilled fatty acids.
Reduce waste water and waste gas problems. There is no waste water and waste gas produced by the cracking of soap feet in chemical refining plant.

In recent years, with the continuous improvement of physical refining process and equipment, the advantages of physical refining are increasingly obvious. At present, most refineries in Malaysia use physical refining to refine crude palm oil. (Learn about the main equipment and process of palm oil fractionation )

Palm Oil Physical Refining Process
Oil physical refining process, also called as oil steam refining. During the degumming section in the palm oil milling plant, the gum will be removed from palm oil by utilizing phosphoric acid or citric acid. Next to bleaching section, the coloring matter and other metal ions will be absorbed or removed. Then, in the deacidification and and deodorization section, the crude palm oil will be processed within low pressure and high temperature. Through live stem, the FFA will be stripped of and the odors and colors will be removed or absorbed.
Through phosphoric acid application, the fatty acid and gum contained in the palm oil and palm kernel oil will be separated from foreign impurities, like trace minerals, iron, cooper and other. This process offers necessary preparation for the next refining process.
It adopts vacuum system to remove the impurities and color pigments from the crude palm oil and crude palm kernel oil.
The palm oil and palm kernel oil are steamed at a temperature of 240°C to 260°C to get away the odors and tastes, and then they are cooled into room temperature (about 55°C) for further use. This process have great impact on the quality of the final palm oil and palm kernel oil.
Crude Oil Chemical Refining Plant
Chemical Refining is a kind of process using strong bases to neutralize most of the free fatty acids and remove them in the form of soaps. It is also known as alkali refining process.
Although most palm oil processing plant adopts physical refining equipment, for other kinds of vegetable oil such as soybean oil refining, chemical refining is still the best refining choice.
Palm Oil Chemical Refining Process
During the crude oil chemical refining process, the FFA will be removed and the neutralized crude oil and soap stock will be produced. And the soap stock will be separated from oil by using of high-speed separator. And the color pigments and the metal ions will be removed from the neutralized oil. If the crude oil contains high carotene, high FFA (more than 5% ) and relative low phosphatides, it will be great to have the chemical refining process to reduce the refining losses and the operation costs.
Highlights of Our Palm Refining Solutions
For cooking purpose, the crude palm oil generally should be processed as edible oil to meet the food industry standards. How to get the edible palm oil? The typical method is through oil refining, either chemical or physical process. For any questions about palm oil refining? Please feel free to get in touch with us!

Building Your Palm Oil Refining Plant
The most effective palm oil refinery plant manufactured by ABC Machinery is sturdy and competent and is ideal for all types of oil processing mills and plants to double the production and deliver consistent performance for a long time. Welcome to contact us for more information about the latest palm oil refining equipment price list.
Successful Palm Oil Refining Projects
Here are some successful palm oil refining equipment sent to our clients, for more information, contact us please!
Video of A Small Scale Palm Oil Refinery Plant Onsite Commissioning
This video is sent by our client who has ordered our one set of small scale palm oil refining equipment, here is the onsite commissioning. Welcome to contact us for more information about palm oil refning equipment!

Hello, I am a Nigerian hoping to go into palm oil and palm kernel production business. I have good knowledge of our local/tradition production process. How do I learn more about your mechanized processes and how do I get your get your machines?
Thank you.
Hello, sir. Thanks for your questions.
Our company have established many palm oil refinery plants in Nigeria. If you want to learn more about the detailed palm oil production process, we can help you and arrange you to visit these factories. In addition, we have a team that is in charge of Nigeria palm oil processing, and they will visit Nigeria every year, you can also get in touch with us to make an appointment for more detailed discussion in Nigeria. (Latest Visit: 2019 ABC Machinery Visisted Nigeria)
All the palm oil processing machine are manufactured in China.
We are a small company in Nigeria planning to set up a palm oil milling and refining factory. Could you please provide a cost for the equipment required and set up for 1 tonne per hour palm oil milling and 1 tonne per day crude palm oil refining and fractionation. Thanks.
Detailed machine list and price have sent to your email inbox. As your request, this is going to be a complete palm oil production plant that includes oil milling, oil refining and oil fractionation sections. The final product would be great for cooking or other industrial purposes.
What are the sources of effluent in palm oil refining?
The process effluent produced after water washing and centrifugation during degumming and deacidification in the palm oil refining process; the effluent produced by the laboratory sampling port and equipment leakage; the water produced by the vacuum downpipe; the steam condensate from the filter blowing; the water produced by the overflow of the chemical ice tank in the freezing vacuum system; and the floor cleaning water.
Why do we need to remove the color from the refined palm oil?
The pigment in palm oil can be divided into natural pigment and processing pigment, natural pigment is mainly chlorophyll, carotenoids and other pigments, processing pigment is the new pigment produced by the oil in the storage, transportation and processing process, mainly the degradation products of protein, sugar, phospholipids in fission oil, or the pigment produced by the oxidation and isomerization of oil and other lipid-like substances. Process pigment is more difficult to remove than natural pigment, in order to remove process pigment you need to add more quantity of active white clay or other adsorbent, or use the thermal decolorization method. These will undoubtedly increase the oil refining consumption. Therefore, in the storage and transportation and processing process to take effective measures to minimize the production of such processing pigments. Such as to prevent the heat of the oil red change.