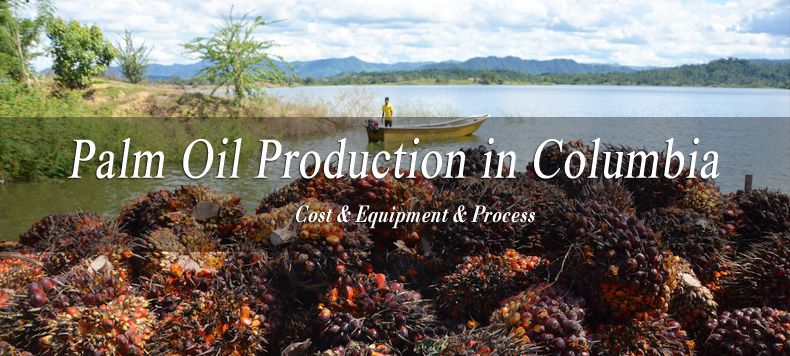 Palm Oil Production in Colombia
Colombia, a Latin America country, is the world's fourth-largest palm oil producer after Indonesia, Malaysia and Thailand. With the continuous expansion of oil palm plantation area in Africa in recent years, according to statistics, oil palm plantation area in Colombia reached 250,000 hectares in 2013 and 280,000 hectares in 2014.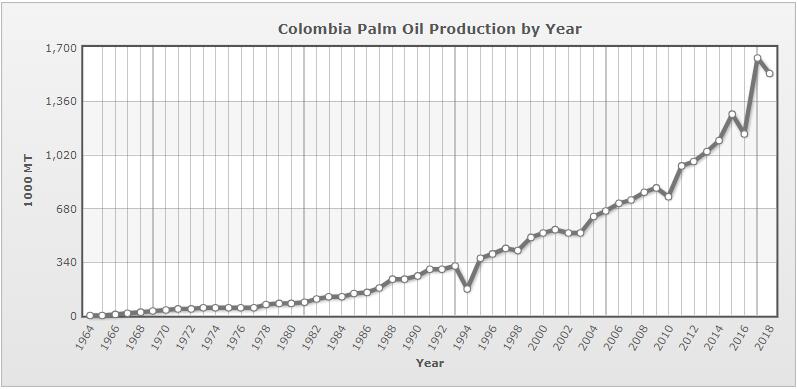 Colombia Palm Oil Production by Year (1964-2018)
| Market Year | Production | Unit of Measure | Growth Rate |
| --- | --- | --- | --- |
| 2014 | 1110 | (1000 MT) | 6.63 % |
| 2015 | 1275 | (1000 MT) | 14.86 % |
| 2016 | 1147 | (1000 MT) | -10.04 % |
| 2017 | 1628 | (1000 MT) | 41.94 % |
| 2018 | 1530 | (1000 MT) | -6.02 % |
In 2014, the oil palm area in the production stage was about 187,000 hectares, with an annual output of 4.11 million tons of fruit and 630,000 tons of palm oil. And it has been growing in recent years, so the growing demand for palm oil is your best opportunity to expand the palm oil market in Colombia. (Read more about Palm Oil Business Plan >>)
Machinery and Equipment Needed for Palm Oil Production in Colombia
To produce high quality palm oil, a series of palm oil processing machine and equipment are needed, including oil pressing machine, oil heating equipment, oil filtering machine, oil separating equipment, oil fractionation equipment, oil cooling equipment, sterilizer, digester, oil refining machine, storage tank, oil filling machine and more. Compared to other traditional oil crops, such soybean, peanut, cottonseed and others, the palm oil production process is a little different, so the a complete palm oil mill plant is relatively complicated.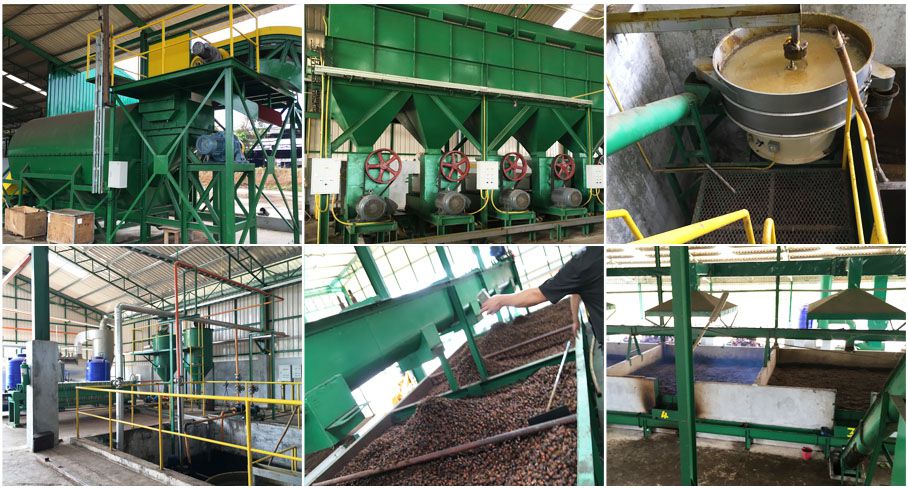 Complete Palm Oil Mill Plant
Palm Oil Production Process
Palm fruit received by the workers are sent it to a factory for weighing, then poured into palm fruit slope for storage. When palm oil processing is required, open the unloading door and the palm fruit will fall to the conveyor to be transported to the sterilization section.
Sterilizing is completed at high temperatures condition to prevent palm fruit from further rancidity. Palm fruit is steamed for 30 minutes at 300KPa, which reduces enzyme activity and prevents acid prices from rising.
Palm-fruit accounts for 60% of the palm-fruit cluster. In this section, we use a rotating cylinder to separate palm fruit.
This section mainly destroys the palmetto peel and separates the pulp from the kernels. Crush the pulp, destroy the nuclei, and prepare for the next pressing section.
Spiral palm oil press is the most commonly used palm oil pressing machine. After pressing, the mixture of oil and water and the pressing cake (fiber cake) can be obtained.
The fiber in crude palm oil is separated by an oil filter machine. Oil and water are then separated by precipitation. After separation, the oil was filtered and vacuum dried to obtain clean crude palm oil.
Now most palm oil mill plant will be equipped with oil refining plant to produce higher quality palm oil. Palm oil refining including degumming, deacidification, decoloring, deodorizing, some even the fractionation process to improve the quality of palm oil completely, making it more suitable for cooking and storage.
Palm Oil Production Process Customized for Small Scale Oil Mill
How Much Needed to Setup a Small Palm Oil Production Line in Colombia
Small scale palm oil production line is the BEST choice for those who has less capitals to start their palm oil business. Usually, the cost to start a small palm oil mill plant, with capacity of 5~10 tons per day, in Colombia is about 20,000 ~ 50,000 USD. A small size palm oil production plant with capacity of 10 ~20 tons per day is about 70,000 ~100,000 USD. But, this is just for references. The exact cost of a complete set of palm oil processing plant is decided by many factors, including the palm oil processing technology, palm oil purposes and more. (Latest article: Palm Oil Processing Plant >>)


Small Palm Oil Production Line (5~20T/D)
ABC Machinery is one of the largest palm oil mill machinery and equipment supplier and manufacturer, we can supply complete turnkey service for palm oil processing in different capacity, including small to large scale. If you are desiring to start palm oil business in Colombia, or any country in Latin America, we would be your BEST partner. We not only can guarantee the quality of our machinery, but also ensure lower cost. Any questions, please contact us for latest quotation!