Palm kernel is an important kind of by-product from palm oil extraction plant. About 45%~48% of palm nut is kernel. The kernels contain about 47%~50% by weight of oil. Palm kernel oil is quite different from palm oil in both characteristics and properties. However, it is more similar to coconut oil.

Full pressing, solvent extraction and pre-pressing solvent extraction is the three main oil extraction methods of palm kernel.
Mechanical Oil Extraction Plant (full pressing)
Basic Section
Palm Kernel Crushing
Cooking
Oil Pressing (expelling)
Oil Filtering (crude palm kernel oil)
Full pressing extraction is also called single pressing, which is a physical extraction method that squeezing oil out under high pressure by use of mechanical screw oil press. The typical process of screw oil pressing plant is: palm kernel crushing, flaking, steam conditioning, mechanical oil expelling and oil filtering. Production cost depends mainly on mechanical wear and tear, electricity and maintenance expenses. Below is some of our Palm Kernel Oil Pressing projects.
Small Oil Mill Plant
Large Oil Mill Plant
---
Full pressing method is suitable for both small and large palm kernel oil mill plant, while solvent extraction method is generally applied to large scale oil mill plant. If you are planning to start palm kernel oil extract business, ensure your capital investment and your daily capacity before deciding the oil production process.
Palm Kernel Solvent Extraction Plant
Basic Section
Crushing
Solvent Extraction
Separating the solvent from miscella
Separating solvent from wet meal
Recycling of solvent

Solvent extraction plant separate the oil by mixing solvent in the material. Production cost depends mainly on solvent loss and energy used in solvent recovery. Compared with screw pressing, the oil recovery of solvent extraction plant is more complete.
Pre-pressing & Solvent Extraction Plant
Pre-pressing & solvent extraction is another popular palm kernel oil production method.

---
After oil pressing or extracting, the oil then requires clarification in a filter press or by sedimentation. To ensure premium quality of final oil and by-products, palm oil mill should have strict quality control from fresh palm bunch processing to kernel oil extraction. Build palm kernel oil extraction plant with professional oil production process is the very first step to the success of your business. ABC Machinery offer turnkey palm oil mill plant solutions from design, manufacture to installation, with competitive price.
Palm Kernel Oil Extraction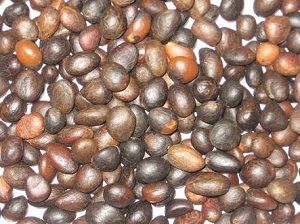 Generally, palm kernel extraction is separated from palm oil extraction. Most small and medium palm oil mills are not designed with palm kernel processing unit, but selling the kernel to other oilseeds extraction plant (such as copra, shea nuts, cottonseeds, coconut seeds, rapeseed, groundnuts and so on).
Palm kernel production in increasing steadily over the years. Both full press extraction and solvent extraction is available for palm kernel oil extraction plant.
I am interested in owing a medium scale Palm Kernel edible cooking oil factory in my country and I am willing to rely on your professionalism to this regard. I will like to know the milling steps and processes as well as the machines involved at competitive price, Thanks Igwe.
Pleased to learn that you're interested in our products palm kernel oil plant!
However, could you kindly inform us more info by filling in the form in the email attachment, so we could suggest and design for you accordingly soon.
I need more information on palm kernel oil plant and your products that are applicable to this project.
As for your raw material palm kernel, what's your desired capacity per day?
Could you kindly inform us more info by filling in the form in the email attachment, so we could suggest and design for you accordingly
How much is your palm kernel oil extraction machine. Also what is the output per day. That is, how much oil is it capable of extracting in an 8 hour shift. Thank you for your urgent response.
Pls kindly inform us your capacity per day, so we could suggest and design for u accordingly. As for this kind of machines, the oil residual in cake is 7~9%, the capacity of this small machines could be 1~15TPD
Can you get me a quote for complete palm kernel crushing plant. Your prompt response will be appreciated. JIMOH RASAQ
What's your capacity per day? To offer customized solutions could you please take some time filling the form in the email attachment.
I need the Large Palm Kernel Oil Press, what is the cost and who does the isntallation? thanks
For small oil press, our customer could install it themselves, for large scale oil press, we send engineers to your factory for installation. Pls kindly inform us your desired capacity per day, so we'll see what kind of machine do you need.
Dears: we have a lot of PALM KERNEL in West Africa that is not used now. We want to study the possibility of install a plant to produce oil to sell. Can tou help us in this issue, please?.. Thanks in advance.. Best regards
Tks for your enquiry, pls confirm the palm kernel is decorticated ..
Besides, what's your desired processing capacity per day. Pls confirm the above questions, so we could give the best suggestion and offer accordingly early
We can receive the palm kernels with shell or without shell but obviously the price of both materials will be different. I ask you for working with the 2 options so I can see what it is better in cost for me. We were thinking in a plant to treat 40 Ton per day of palm kernel and to produce around 20 Ton per day of OIL. But we are open to listen different posibilities. Please do not hesitate to comment anything so you can help me in the right way. We are not experts in this field.
It's better to have palm kernel as raw material, the decorticator equipments from China Market is not economical.
Pls kindly fill in the form in the email attachment for basic info, so we could design and quote for you asap.
I looking to buy an effective palm kernel oil extracting machine for my oil palm plantation in Africa. Could you please, send me more information about your products. I am looking for equipment for a small scale industry.
Hi, dear. If you are planing to start a small oil pressing line, here is the equipment required: Screw elevator, Sieve, Cooker, Oil expeller, and the detailed information and price have been sent to your email box, please check it. If there're any questions about the offer, pls let me know freely
Will try my best to give assistance.
I would like to start a small scale palm kernel oil processing plant in Nigeria which can take between 5 - 15 tonnes of palm kernel per day. Please help with anything you think I can use to achieve this reducing cost of production and labour is of high pirorty.
Thanks for your email. As for your capacity and budget, we suggest that you could start from 5TPD.
The process flowchart could be as follows: Palm kernel-> cleaning-> Pressing-> Filtering-> Palm oil
FYI, pleases refer to the photo in the website (the cooker is not included considering the oil content of kernel is high.
We need a quote for Turnkey plant for the extraction of palm kernel oil (PKO) and palm oil extraction and Refining.
Hi, Thanks for your enquiry to our products. As for your request, could you kindly advise us more info;
1. Is your raw material palm seed or kernel, could you show me a photo?
2. How much raw material do you want to process per day?
3. Where do you want to locate this project, in USA or Africa countries?