Palm kernel oil (PKO) is derived from the kernel of palm fruit. Palm kernel oil is a highly profitable product. Te oil content of palm kernel is about 50 - 55%. However, in many Africa countries, palm fruit is widely used to extract palm oil and the palm kernel is often used as fuel for fires, which results in huge waster of resources. There are only a very small amount of palm kernel is used to extract oil through separating the shell and nut manually. So, how to maximize the palm kernel values? Is there any palm kernel cracker or palm nut separator machine available for small size palm kernel oil production? (Related Post: Palm Kernel Oil Extraction Machine in Nigeria >>)


1~20TPD Small Palm Kernel Oil Production Line
Small Palm Kernel Shell Cracker Machine
ABC Machinery has developed the small scale palm kernel cracker machine through years of research. Palm kernel cracker, also called palm shell and nut separator machine, is used to crush the hard shell of palm kernel and get the palm kernel nut. Compared to traditional manual separating method, this new type palm kernel cracker machine improve the shell separating efficiency and truly liberate the workers and the work force.

Palm Nut Cracking & Palm Kernel Separating
Below is the small scale palm kernel shell cracking machine, also called palm nut cracker. It is the professional automatic palm kernel shell cracking machine that can efficiently separate the shell with palm kernels without damaging the kernels. Now it is widely used in small palm plant farm or small scale palm kernel oil processing factory. (You may also like Palm Oil Processing Plant Cost >>)

Small Palm Kernel Shell Cracker
Below is the technical data of this small palm kernel shell separating machine, if you want to know information about it or want to get the free quotation, please contact us directly without hesitation.
| Equipment | Hulling Rate | Capacity | Power | Dimension | Weight |
| --- | --- | --- | --- | --- | --- |
| Palm Nut Shell Cracker | 98% | 300~500kg/h | 3kw | 110*75*110cm | 700kg |

Palm Kernel Shell Cracker Machine Features
It is suitable to crack kernel in different sizes and hardness
High shucking rate above 95% and low breaking rate less than 1%
Compact structure and reasonable design can shell the kernels at one time
Easy to use and superior cracking performance
Time and efforts saving machine greatly improves palm kernel oil production efficiency
It is also used for other types of nuts,for example apricots, almonds, filberts and so on
Palm Kernel Separator Machine Function
Palm kernel nut separator machine is used to separate the shell and nut after the palm kernel being cracked. It is small and requires low cost. It is very user-friendly and requires less maintenance. (Related Post: Palm Kernel Crushing Machine Price in Nigeria >>)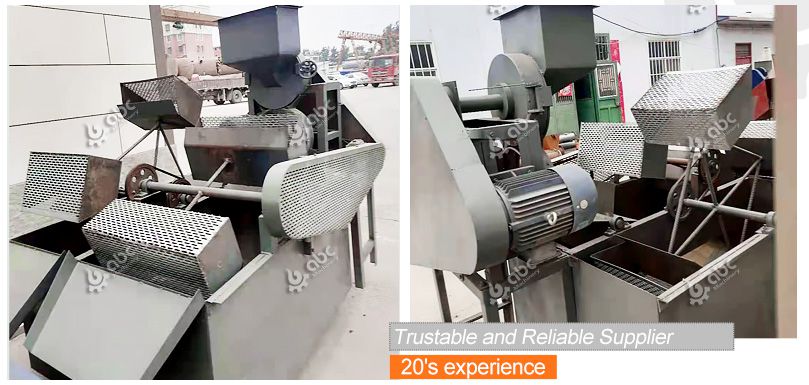 Palm Kernel Separator Machine
ABC Machinery is the professional Palm Oil Mill Plant supplier. We have rich experiences in setting up turnkey palm oil processing project. We have exported a large number of palm oil processing machine, palm kernel oil extraction and palm oil refinery to Malaysia, Indonesia, Nigeria, Kenya, Ghana, Cameroon, etc. If you have any interests in palm kernel shell cracker or separator machine, please contact us to get the detailed cost.