Palm oil is the world's largest vegetable oil in terms of production volume, consumption, and international trade volume. It is also known as "the world's three major vegetable oils" in combination with soybean oil and rapeseed oil. It has a wide range of application in catering, food, and fat chemical industries. Southeast Asia and Africa, which are the main palm oil production areas, account for about 88% of the world's palm oil production.
Wonder what's the cost of starting palm oil manufacturing business ni Nigeria, view the post to get more details!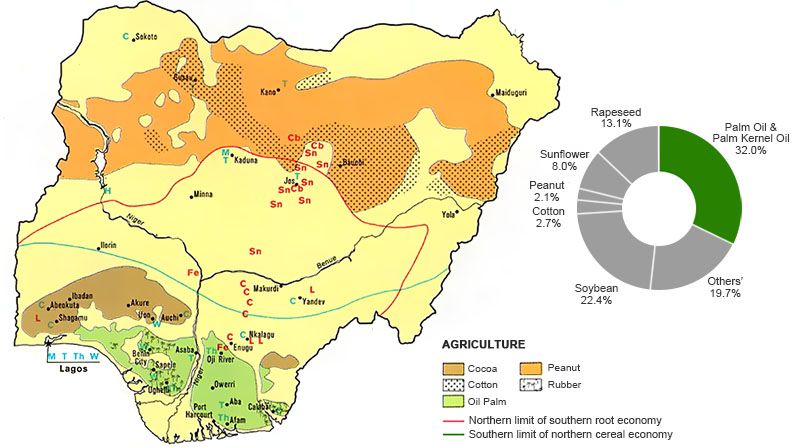 Economy Activity of Nigeria

Actually, Nigeria has rich oil palm sources, it is definitely profitable to set up palm fruit or palm kernel oil mill plant in Nigeria. However, the development of local palm oil production is restricted due to the lack of advanced oil processing technology. So, we came to there get an in-depth understanding of the situation and needs of local palm oil production investors and businessmen. And to offer more opportunities for local investor to expand and improved their oil processing technology.
---
Palm Oil Production In Nigeria - Business Trip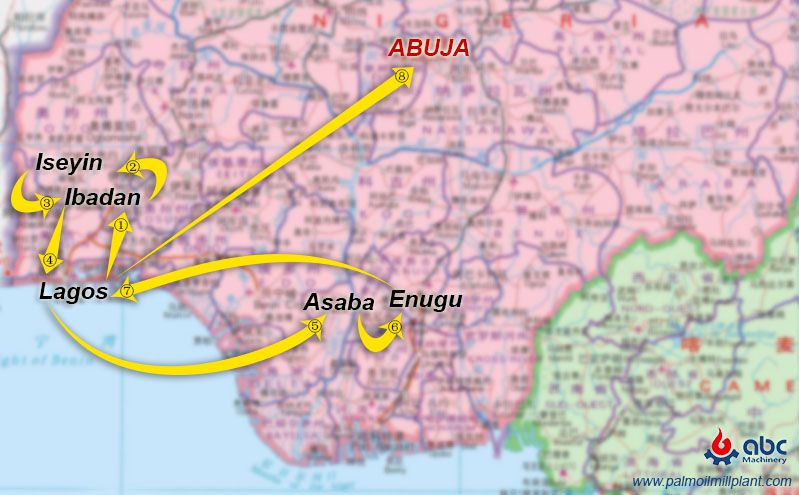 The Route Map of this Business Visit in Nigeria
From March 14, 2018 to March 28, 2018, the general manager of ABC Machinery Tina, along with the Sales Manager Steven and the Chief Engineer Dr. Li went to Nigeria for business visit. They not only visit our clients, but also have deep study on the palm oil business and market in Nigeria. During this trip, they mainly went to 6 cities of Nigeria, including Lagos, Ibadan, Iseyin, Abuja, Enugu and Asaba.
Lagos
In March 16th, they arrived Lagos and visited one of our client who is interested in starting a 20 ton/day palm oil pressing plant.
According to data from the Nigeria Manufacturing Association, the supply and demand gap for Nigeria is about 700,000 tons, but according to data from the National Palm Oil Association, Nigeria produces 1 million tons of palm oil annually, and consumer demand is 2.7 million tons. The actual supply and demand gap is as high as 1.7 million tons.
In January 2016, the price of 25 liters of palm oil sold in the market was 6,500 naira, and now it is sold at 25,000 naira, up by 284%. Small bottled palm oil was 220 naira last year and now it is 720 naira. 227%.

Ibadan
In Ibadan, they met the client of castor oil production and visit the field for establishing the castor oil mill plant.
Asaba
In March 18th, then went to Asaba to visit our client CYRIL who have ordered 10 ton/day Palm Kernel Oil Pressing and Refining Plant from us. The foundation of the workshop floor has begun. According to the situation on site, our Chief Engineer Dr. Li drew the layout and size of each workshop by hand and had an in-deep communication with our clients.

In the afternoon, they met our client Brown and Joy who are interested in our 3 ton/day palm oil refinery plant. And in the evening, Joy introduced on of his friend to us. This friend owns a palm kernel oil processing plant and he is planning to establish a 10 ton/day refining plant.

In March 20th, they met our clients of 100 ton/day palm oil solvent extraction and 60 ton/day palm oil refinery plant. They also visited two of the large scale palm kernel oil mill plant MICHO and SAN SAVVAN in local area. During the visiting, the manager of SAN SAVVAN showed his interests in establishing oil refinery plant, and we believe we will reach new cooperation soon. (Recent News: Small Palm Kernel Oil Pressing Line Exported To Nigeria)
Enugu
In Enugu, they attended the local exhibition and was interviewed by a local television station.
In March 21th, we met the client of a 1000 ton/day palm fruit tender project. In the afternoon, they went to Victoria Island to visit another client who is planning for starting a 20 ton/day palm fruit oil mill plant. In March 22th, they met OFIO who is interested in 2 ton/day palm oil refining and fractionation plant.
Abuja
In March 24th, they went to Abuja to visit the workshop of one of our client who had bought palm oil refinery plant from us but was not installed yet. This time, they went to check the equipment and give some suggestions on the preparation of project installation so that to save the installation time and cost.
In March 25th, they met the client of 15 ton/day palm kernel oil pressing and 1 ton/day refinery plant. At noon, they met the client of 2 ton/day palm oil refinery plant. In the evening, they met the client of 20 ton/day palm oil pressing plant and 10 ton/day refining and filling plant.
---
ABC Machinery is a professional palm oil mill machinery manufacturer and supplier, we can not only offer the most cost effective single oil processing equipment, but also can offer turnkey projects for both palm kernel and palm fruit to extract high quality cooking oils. If you have any interests, please do not forget to contact for more detailed technical information and latest price! We are always her for you!
Palm Kernel Oil Pressing Equipment Exported To Nigeria