Here is an article about palm oil production in the Philippines. If you are planning to establish your own palm oil business in the country, it is necessary to know about the local oil palm processing market. Feel free to contact us if you need any suggestions on establishing your palm oil extraction plant!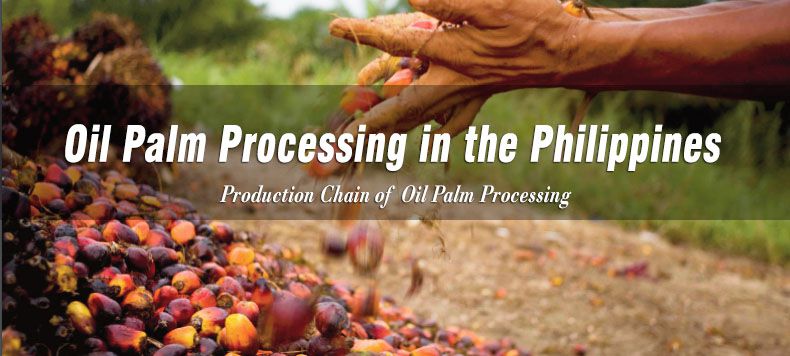 Oil Palm Processing In the Philippines
For the farmers in the Philippines, the best crop to plan is oil palm, especially for small landholders who have only 3-5 hectares. Most fruit trees or crops such as corn and coconut require intensive and expensive post-harvest practices while not with oil palm farming. Compared with coconut, oil palm is easier to plant and requires less time for maintenance, harvesting and even marketing. In the Philippines, with a medium scale oil palm farm, the annual income is P182,000 per hectare at least. What's more? Palm oil extracted from fresh palm fruit bunches has a big local market and it is much cheaper than coconut oil. (Read more about palm oil processing in Nigeria >>)
Palm Oil Production in the Philippines
Coconut is used to be the major crops of the country. But now palm oil is extremely perceived as another option. Besides, the financial returns in nurturing oil palm is much more than cultivating coco trees. Palm Industry can produce not only great economic but also great social development in the Philippines.
Setting Up a Small Palm Oil Mill Plant
The followings are two small palm oil mill factory we built for our clients. You can take them for references! For detailed project cost equipment price, send an inquiry now and you can get a quick reply in one business day!


Threshing and Oil Extraction Machine Details


Crude Oil Clarification (left), Palm Kernel & Fiber Separation (right)
Read More about palm oil milling technology >>

Malaysia used to be the world's largest producer and exporter of palm oil. But now, Indonesia has many massive oil palm plantation and has catch up with Malaysia. The palm oil production in the Philippines is also booming and it is a minor producer of palm oil in Southeast Asian region. It is available to get help from the government agricultural extension personnel about oil palm technology. According to data, the local demand of palm oil is growing at around 2.18%/year. The palm oil consumption in the Philippines from 2000 to 2017 is shown as below. But compared to Indonesia and Malaysia, there is less competitive in the market of Philippines, so it is really a good chance to setup your own palm oil extraction plant there!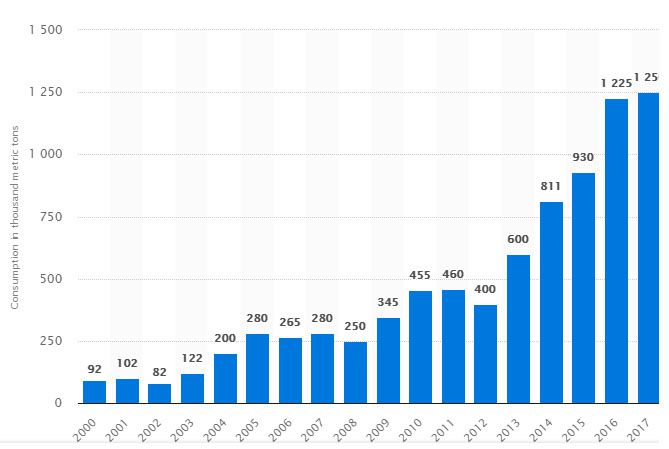 Palm Oil Consumption in the Philippines (2000~2017)
Oil palm is becoming one of the major type of crop farming in the Philippine and the major planting areas is Mindanao. The Philippines has such rich agricultural resources and oil palm farming can help bring prosperity especially to the impoverished communities of Southern Philippines, and drive the prosperity of the whole country.

Application of Palm Oil
Food uses: household Edbile Oil, industrial Frying, Ice Cream, Margarine & Shortening, Non-dairy creamers, Confectionery
Non- food uses: Soap and Detergent, Cosmetics, Oleochemical, Candle Making, rubber processing, textiles, Pharmaceuticals, Lubricants, Plastics, Animal Feeds (Palm Kernel oil cakes), Fuel for diesel Engines, Charcoal (Surplus shells), Fuel in oil mills (Palm Fiber and EFB), Insulating panels & paper pulp, Compost (Empty Fruit Bunches), Palm wine, etc.
Cost and Return of Oil Palm Plantation in the Philippines
The initial cost of start your oil palm plantation in the Philippines is mainly on planting materials. The fruit bunches of oil palm can be harvested after only 30 months after planting. Its productive life span can reach up to 30 years. During this 30 years, fruit bunches can be harvested every 15 days. You can get crude palm oil (CPO) from the mesocarp of the fruits and palm kernel oil from the palm fruit kernels (palm kernel oil processing business plan). With further refining process (palm oil fractionation machine), you can get palm stearin for non-food uses and palm olein for food uses. The follows listed the rough cost and returns for your references.
Start harvesting at 3 years after planting.
At the 4th year, the field yield is about 6 t/ha, cost of P7,200 with a gross income of P27,000/ha.
At the 6th year, the field yield is about 15t/ha, cost of P18,000/ha and a gross income of P67,500/ha.
The Production Chain of Oil Palm Processing
In the Philippines, the palm oil milling companies buy the oil palm bunches from local farmers or plantation firms at an agreed contract price. The palm oil milling companies produce crude palm oil (CPO) and palm kernel oil (PKO) with established palm oil extraction plant, and sell the crude oil to the further processing market for making Refined Bleached and Deodorized Palm Oil (RBD), RBD Palm stearin, RBD Palm Olein and Hydrogenated Palm Oil. (Related Posts: Crude oil refinery process >> )
The followings listed the main companies of oil palm processing in the Philippines:
Ricor Mills Corporation
Asian Plantations Philippines, Inc.
RFM Corporation
Universal Robina Corporation
Oleo Fats, Inc.
Mina Oil Mill Corporation
Barons Marketing
Royal Oil Products
Pacific Oil Products
The products from oil palm processing industries are widely used by food and industrial manufacturing companies including Universal Robina Corp, Ansi Corp, Windsor Corp, Meadow Brand, Serges Products, G. A. Import Sales, Dayton Corp, Tantuco Enterprises, Royal Oil, United Coconut, JNJ Oils Industries, etc.