When you need to refine palm kernel oil, take a look at our small scale palm kernel oil refinery plant. It is a type of oil refinery where crude palm kernel oil is processed in batches. It has exemplary results on vegetable oils, such as peanut, rape seed, soybean, sunflower, cotton seed, palm, coconut and niger seeds too. It is also suitable for processing animal oils such as seal oil, fish oil, and others. ABC Machinery is your reliable oil refinery manufacturer. We offer the best palm kernel oil refining machine at wholesale cost for the world. If you have any questions or wanna know the latest price about oil refinery, please let us know!
20TPD Palm Kernel Oil Refinery & Fractionation Plant Exported to Nigeria
This is a small scale palm kernel oil refinery and fractionation plant designed and manufactured for one of our client in Imo, Nigeria. The capacity of this palm kernel oil refining plant is 20 tons per day. The client set up this 20TPD physical and chemical oil refinery plant and fractionation plant to make palm kernel oil deep processing to get liquid oil and different melting point. This 20 TPD Palm Kernel Oil Refinery Equipment included:
20TPD palm kernel oil refining line-
Refine crdue palm kernel oil;
20TPD fractionation plant-
Dry
fractionation
for palm kernel oil;
Lab equipment-
For
precise oil refinery
based on requirements;
2T/H Steam boiler
- Provide sufficient heating;
This small scale palm kernel oil refinery plant is based on
chemical refining
technique. The main
crude palm kernel oil refining machine
includes
degumming pot, refining pot, leaf filter, decoloring pot and more.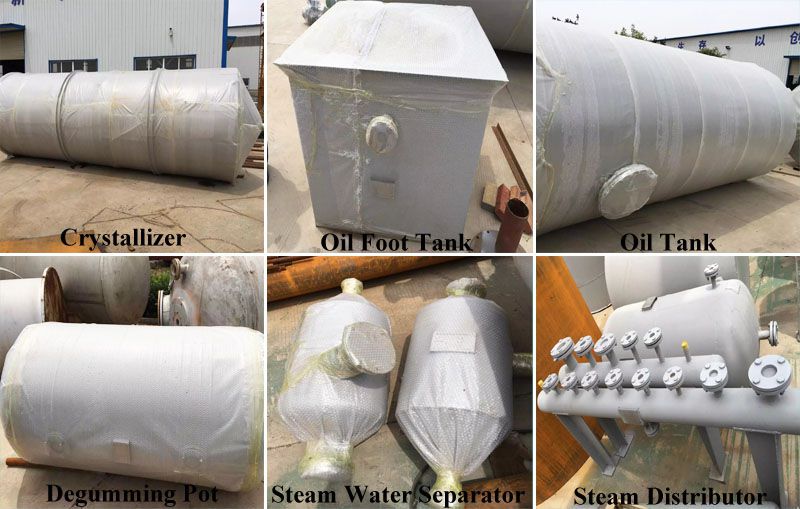 Other machines and spare parts included in this 20 TPD palm kernel oil refinery factory: steam jet pum, leaf oil filters, cooling tower, various valves and more.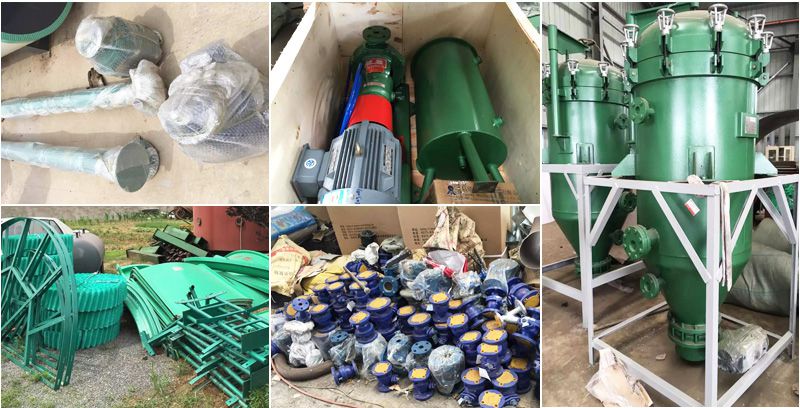 Main Stages of Palm Kernel Oil Refinery Process
Degumming – this is the first step in oil refinery. Here, hot water is used to extract impurities such as gum, protein, and phospholipid. This process is carried out two to three times to ensure that the oil is free from impurities before proceeding to the next stage.
Neutralization –We all know that crude oil contains a lot of free fatty acid. Consuming these harmful fatty acids would be harmful for our health. That is why they need to be removed. During their removal, caustic soda reacts with fatty acids to form soap stock. These soap stock exist as pellets and they sediment at the bottom. Here, they are pumped out and the crude oil is free from harmful products.
Decolorization –Oil gets its golden look at this stage. Crude oil gets its characteristic black color from ink pigments that include carotene and xanthophyll. Bleaching earth is used to remove these colored pigments. It's used due to its high adsorption tendency. Once bleaching is complete, a mixture of bleaching earth and the colored pigments are pumped out. At this stage, we can see that the oil is now clean and has a golden transparent shade.
Deodorization –Finally, the oil is passed through the deodorizing section before being released to the market. Pure oil is odorless. However, crude oil has a unique smell that originates from oxides of ketones, hydrocarbons, and even aldehydes. At this part, steam is passed through the oil at a high temperature and pressure. The steam takes away all the bad odors with it leaving behind pure oil that is free of any odors. Then, the oil is ready for the market. All this is done by the palm kernel oil refinery plant.
Advantages of Palm Kernel Oil Refining Plant
The main advantages of our small scale palm kernel oil refining plant are:
Can be used for a wide array of purposes. This unit is capable of purifying various types of crude oil.
Affordable –Even though it's powerful, it doesn't cost a leg and arm. It is relatively affordable and it will definitely offer a return on investment.
Minimal space usage – we all know how valuable land is. This unit is perfect for those starting up as it does not require much space to set up.
Easy operation– The unit is easy to use. You and your employees will be able to use the machine after a short training session from our professionals
Low cost of oil refinery plant - This type of batch oil refinery plant for crude palm kernel oil requires less investment, meanwhile, the operation cost is low
Nigeria is one of the largest PO and PKO supplier in the world. These years, we have exported a lot of equipment for its palm oil and palm kernel oil productions and gained rich experiences in equipment installation and onsite commissioning for
Nigeria market
.
The price of our palm kernel oil refinery plant, small or large, is the most favorable in the market and the quality of our machinery is completely guaranteed.
If you want to know more details about the palm oil turnkey projects of palm oil production and palm kernel oil processing, or the optimal business plan for palm oil mill plant, or the specific palm oil refinery cost, please contact us, we can offer more than you expected!